Wimbledon, the iconic All England Lawn Tennis & Croquet Club, commissioned Howick client EOS Facades to assist in designing a new open/close roofing solution for No.1 Court. Constructed with the support of Howick machinery, the new retractable roof will enable uninterrupted play irrespective of the weather.
Match point for steel frame construction
When No.1 Court at Wimbledon, which has seen legendary players like Roger Federer, Boris Becker, Martina Navratilova, and Venus Williams smash their way to fame, needed a retractable roofing system to guarantee play in all weather, they turned to EOS Facades for assistance.
Hosting over 26,500 spectators per year, the new retractable roof will minimise disruption to the game, as well as limit potential loss of income for the club. Commissioned by Prater - and contractor Sir Robert McAlpine, the company behind London's Olympic Stadium – EOS Facades utilised their Howick H560™ to design and implement two innovative walls for the new open/close roofing solution.
Making the deadline was vital as a late finish could mean a loss of over 10 million pounds in revenue. And with the Championship taking place mid-way through the redevelopment, it was essential that all on-going construction could be effectively hidden from the audience.
With the stakes through the roof, EOS Facades knew cold-formed steel and Howick's revolutionary machinery would make the cut due to the impressive speed and precision-point accuracy it provides. The combination allowed EOS Facades to create a lightweight and efficient solution - using a linear product to form a highly unique, time and audience sensitive application
"The ability Howick machinery has to cut, notch and dimple to precise instructions (CSV) allows EOS to innovate and pre-assemble strategic / important parts of the facade within the factory. This means we can deliver accurate, quality controlled product to site that's been pre-assembled – providing speed on site." EOS Facades.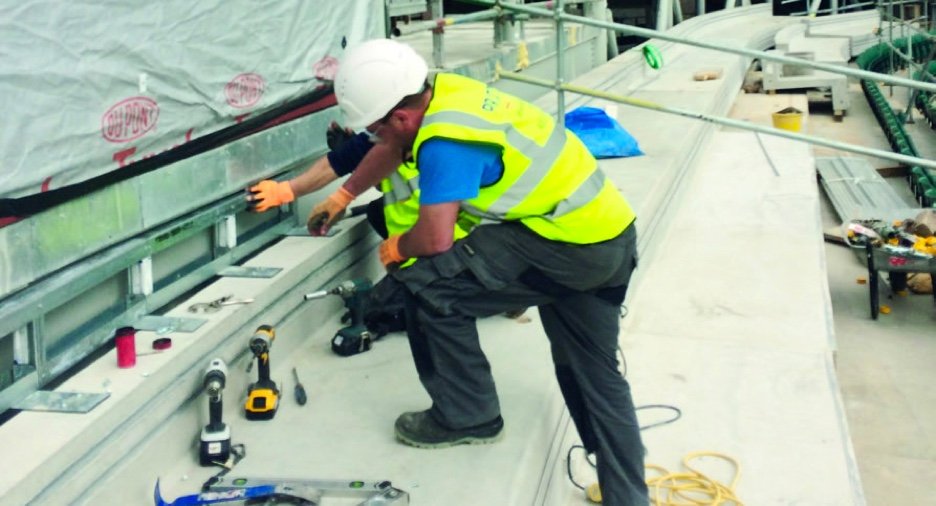 Howick machinery scores grand slam for EOS facades
Using Howick machinery, EOS were able to produce a variable radius curved wall that could be used for both support and as a screening structure. The design included a range of features such as; bespoke and highly resilient wind posts, bracketry stiffened with uniquely modified elements and tall cantilevered solutions. EOS also provided lightweight cold-formed C Section Studs, reducing the load on the foundations and supporting elements.
Sophisticated in design but simplistic in nature, the screening structure successfully eliminated any sign of industrial support infrastructure - maximizing the audience's experience. The architectural lines flow seamlessly and consistently with the shape of the existing stadium – without drawing the attention of the crowd or players.
"Howick machines are conversant with the BIM legislation in the UK, which enabled EOS to convert BIM modelling to IFC/CSV files and electronically "fly by wire" to the factory machines without having to create 2D drawings. This was both a cost and a time saver." EOS Facades.
Exceptional quality, served right on time
Because the design was BIM modelled and manufactured in factorycontrolled conditions, site issues were virtually non-existent. The sections were cut to length with compound sections pre-assembled - and bundled in colour coded groups - in the EOS factory, reducing installation times. This, combined with the fast construction turnaround steel-frame construction allows, meant the tight deadline was aced.
With the new roof firmly in place, Wimbledon joins the US and Australian Opens in having the capacity for indoor tennis on two courts. The roof has succeeded in weather-proofing Court No.1, and allows for play to continue on both main show courts until the 11pm deadline without fear of losing light.