Howick client Newton Steel Framing Limited, located in Scotland, was approached to bid on the construction of three high-spec terrace houses in Surrey. Although the build would be the first of this scale undertaken by Newton, they won the project - with their Howick machinery being a key point of difference setting them apart from their competitors.
Complex High-End Residences
The Withdean Terrace site is immediately adjacent to the St. George's Hill Estate in Weybridge, Surrey. Property values are around £6,000 per square metre in this location, so high quality construction is key. The total gross external area of the three houses was approximately 1,000sqm, and given the high values in the area, they had been designed with a view to maximising their value, with less consideration given to the ease of construction.
The buildings incorporate roof terraces, accessible roof space with a complex roof form, cantilevers, step outs, skylights, bay windows, large sliding door openings and parapet walls. Adding further complexity, the internal walls do not align, so a two storey hot rolled steel transfer structure was needed, and the foundation slab was designed and built at four different levels.
Steel Framing Supporting Every Element
Construction utilised light gauge steel frame as the primary load bearing structure, with a two storey hot rolled steel transfer structure where required. A traditional brick skin was used with PIR insulation and a cavity. The external structure was completed with a warm framed panelised roof, with clay tiles, aluminium skylights, rooflights and windows.
The floors were formed with 300mm-deep light gauge steel frame lattice joists spanning nearly 6 metres, and Lewis Deck with a Gvylon screed incorporating underfloor heating. The lattice floor joists and pre-punched service holes for piping and electrical cables significantly reduced the time taken to fix plumbing and electrical services, as well as providing routing for HVAC ducting required by the Mechanical Ventilation and Heat Recovery system.
The roof was panelised with a hot-rolled steel ridge beam in one of the houses to maximise clear headroom. Reinforced cold rolled lattices and posts created an arch in two houses, creating space where a wall would otherwise have been. This allowed the customer to gain an additional 60 square metres of habitable space in two of the houses, transforming the second floor bathrooms and creating capacity for walk in wardrobes.
All together, the project was around 28 tonnes, with steel components taking around 23 hours of machine time to manufacture.
The Finished Build – a Triumph of Accuracy
The finished accuracy of the entire building was within 0.06% of the planned dimensions, which is a remarkable degree of accuracy. This was achieved through a combination of the dimensional accuracy of the machinery, close attention to detail in the design files, and the use of pre-punched bolt holes in the walls and roof which forced the erectors to be very accurate.
The houses have very good acoustic characteristics, and a robust feel - vital given the developer's anticipated sales prices and target market. The building also has design U-values, and airtightness close to Passive House standards.
Newton's client was delighted with the end product. They have recommended light gauge steel framing, and Newton Steel Framing Limited in particular, to other local developers.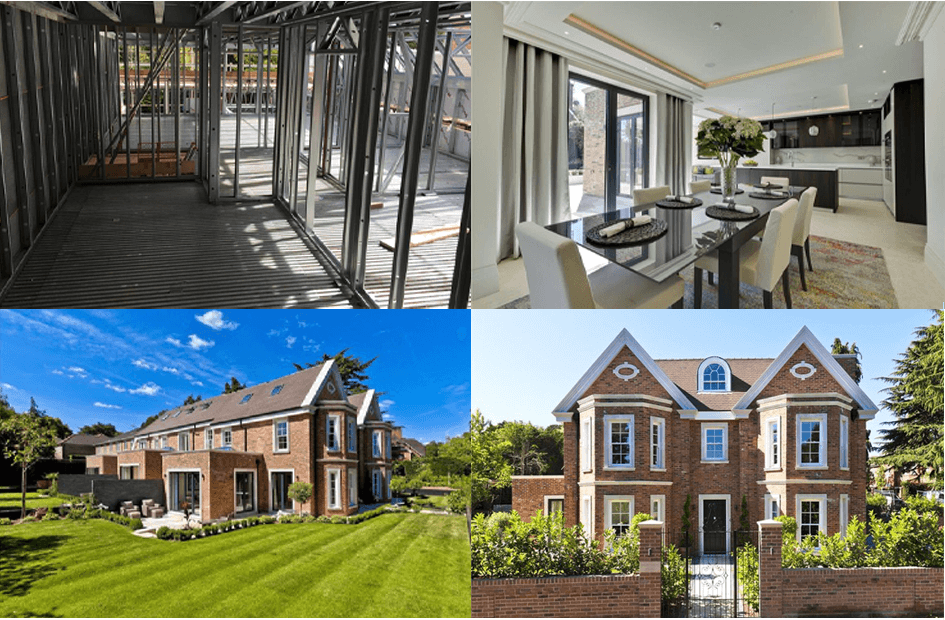 "Our Howick machinery has been instrumental in our growth over the last two years. Using machinery with a strong reputation for reliability and accuracy has given our customers the confidence needed to switch across from masonry, timber frame and other LGS manufacturers. The machinery is a known quantity in the market and provides assurance on the quality of the steel section rolled… We are so pleased with the machinery, we are planning to buy a further machine this year and at least one more next year." Newton Steel Framing Ltd.