Soffit Expanding Panels
Soffit Panels adjust up or down across the frame to a set height. This makes accurate levelling up a breeze as allowance can easily be made for non-level horizontal settings.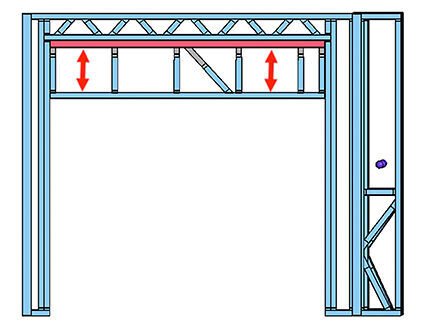 Two-Axis Expanding Panels
Two-Axis Expanding Panels adjust upwards and outwards to fill the available opening. Within the frame itself, door and windows remain perfectly square.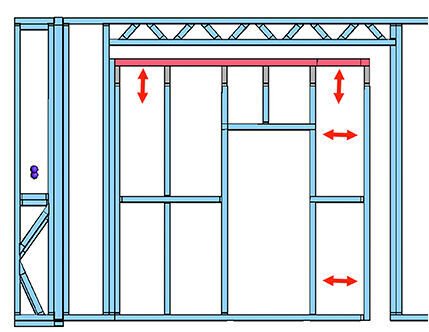 Multi-Axis Expanding Panels
Multi-Axis Expanding Panels adjust upwards and outwards on both sides. This allows for different angles within the available opening.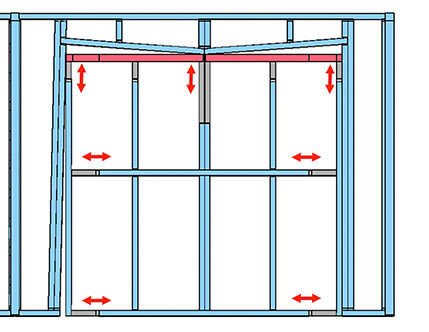 CHANGING THE SHAPE OF INTERIOR INSTALLATIONS
Using telescopic panels manufactured by the X-TENDA™ 3600 can save you 50% or more on installation time, and open up a world of possibilities for interior installers, including:
Easy assembly
Complete panels can be assembled in the factory or onsite in minutes - with 100% confidence panels will fit the space required.
Easy transportation
Panels are lightweight and can be compressed – so they can be transported in contractor vehicles and then carried up elevators or moved around tight spaces.
Greater productivity
A team of two installers can single-handedly assemble panels, move them into place, and frame up a wall in half the time or faster than traditional methods.
Perfect fit every time
Panels can extend outward and upward to fit any uneven or non-level space. It will even accommodate changes to the area after the pre-installation measure, such as an uneven floor.
True window and door spaces
Within the frame, doors and window sections remain perfectly square. Soffit panels can be screwed into the ceiling and pulled down to a laser line level with the floor below. Panels can also be multi-axis to allow for any angle.
Eliminate waste and disturbance
Because there is no need for measuring, snipping and cutting onsite, the X-TENDA™ 3600 panels mean less wastage and no excess framing to remove at the end of the job - saving on time, labour and materials.
Our telescopic panels can be used in a wide variety of situations to increase the efficiency of almost any construction project.
Soffit Panels
Soffit panels adjust up or down, across the frame to a set height. This makes accurate levelling up a breeze, as allowance can easily be made or non-level horizontal settings.
Wall Panels
With Two-Axis and Multi-Axis expanding panel configurations, panels can adjust on the spot to the size and angle of any opening, with doors and windows remaining level and plumb.
Bulkheads
Do away with the need to make onsite adjustments to accommodate for bulkhead spaces. Just line up the telescopic panels, drop to fit the area and line.
Raked or Vaulted Ceilings
Telescopic panels easily fit spaces which are demanding, for example, contemporary or period spaces with tricky, arbitrary designs and shapes.
Refurbishment
Often multi-storeyed refurbishment projects have limited workable space, limiting lift access, restricting workflows and schedules. Lightweight and retractable telescopic panel can squeeze into almost any area with ease.
Double T Installation
Framing out between pre-cast concrete double T flooring with our telescopic framing systems can now be done in a fraction of the time it takes using traditional methods.
X-TENDA™ 3600
Guage Range / Thickness
0.8 - 1.2mm
22 - 18 guage
Profile Width Options
63.5 - 152.4mm
2 1/2 - 6"
Profile Flange Height Options
41.3m
1625"
Dimensions L X W X H
4.4m x 7m x 1.3m
14.4' x 23' x 4.3'
Weight
2000kg
4409lb
Drive Motor Power
4.0kW
5.4hp
Hydraulic Power
4.0kW
5.4hp
Hydraulic Tank
40L
10.6gal
Forming Stages
Line Speed
30m/min
98'/min
Production Speed
400 - 900m/hr.*
1312 - 2952'/hr
Touch Screen
Panel PC (Windows 10)
Machine Control
FRAMA Machine Control
Machine Input Files
CSV
Tooling
Component Marking
Dual Head Inkjet Printer
Decoiler
1.5T Decoiler
3300lb Decoiler
Dimensions L X W X H
1.05m x 1.2m x 1.68m
3.4' x 3.9' x 5.5'
Weight
350kg
770lb
Drive Motor
2.2kW
3hp
Jaws
3 Jaw Self Centring
Jaw Expansion
Hydraulic
Jaw Expansion Range
480mm - 520mm
1' 7'' - 1' 8 1/2''
Speed Control
Dancer Arm with Inclinometer
Auto pause at coil end
Max Coil Weight
1500kg
3300lb
Max Coil Width
200mm
8''
Mac Coil OD
1500mm
59''
Nominal Bore
508mm
20''
Safety

* Production Speed will vary due to component complexity. Howick Ltd Reserve the right to update the machine specification without notice.

STANDARD METRIC SIZES
| | | | |
| --- | --- | --- | --- |
| Section Size | 152.4mm | 92mm | 92mm |
| Web Width | 152.4mm | 92mm | 92mm |
| Flange Height | 41.3mm | 41.3mm | 41.3mm |
| Lip Width | 10mm | 10mm | 10mm |
| Service Hole *1 | 34.1mm | 34.1mm | 34.1mm |
| Bolt Hole *2 | 13mm | 13mm | 13mm |
| Web Hole *3 | 3.5mm | 3.5mm | 3.5mm |
| Dimple Hole *4 | 3.5mm | 3.5mm | 3.5mm |
| Nominal Strip Width | 253mm | 192mm | 192mm |
| Deflection Slot | 38.1mm x 5mm | 38.1mm x 5mm | 38.1mm x 5mm |
| Max Material Thickness | 0.55mm - 0.75mm | 0.75mm - 0.95mm | 0.95mm - 1.15mm |
STANDARD IMPERIAL SIZES
| | | | |
| --- | --- | --- | --- |
| Section Size | 6'' | 3 5/8'' | 3 5/8'' |
| Web Width | 6' | 3 5/8'' | 3 5/8'' |
| Flange Height | 1 5/8" | 1 5/8'' | 1 5/8'' |
| Lip Width | 3/8" | 3/8' | 3/8'' |
| Service Hole *1 | 1 11/32'' | 1 11/32'' | 1 11/32'' |
| Bolt Hole *2 | 1/2'' | 1/2'' | 1/2'' |
| Web Hole *3 | 1/8'' | 1/8'' | 1/8'' |
| Dimple Hole *4 | 1/8'' | 1/8'' | 1/8'' |
| Nominal Strip Width | 9 61/64'' | 7 9/16'' | 7 9/16'' |
| Deflection Slot | 1 ½" x 5/64" | 1 ½" x 5/64" | 1 ½" x 5/64" |
| Max Material Thickness | 24 - 22 Gauge | 22 - 20 Gauge | 20 - 18 Gauge |