Head of sales for Howick globally, Deon is currently extending his remit to provide focused support for Howick's customers and prospects in the UK and European region. This is a short-term solution that will enable us to build a permanent UK-based sales and technical support team.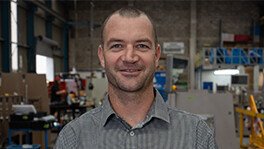 Deon's is an unusual story in this day and age. He started out with Howick as a machine apprentice at just 16 years old. That means he has now spent 24 years with the business, and probably knows our technology and industry as well as any of us.
In his own words, "I feel like I've earned my stripes. I know the light gauge steel (LGS) roll-forming business pretty well now, and I do understand the opportunity it presents for smart construction businesses because I've seen first-hand what it can do through the successes and growth our customers have achieved.
"The world of offsite and modular building is constantly evolving, and when it comes to LGS, we are at the forefront of it. I find that invigorating, so I'm very much looking forward to being more involved in helping our customers in Europe and the UK excel in this space and take advantage of the opportunities it provides.
"I started with Howick as an apprentice when I was 16. I was pretty green! I spent 4 years doing my trade as a fitter and turner, then a number of years manufacturing machine components and fabricating all machine frames for our roll-forming technology.
I had a short stint (about a year or so) as factory supervisor at our sister company Rollforming Services, running the factory and producing our Speedfloor product, but my heart was always with Howick. Around 2007, I moved back to the main business from the factory floor to into a sales role, supporting our global customer base. I started travelling around the world installing machines along with attending trade shows. It was eye opening!
In 2010, I was fortunate enough to reconnect with my old school friend, Lani, who soon became my wife. An opportunity came up for me to run Howick UK, so in 2011 we upped sticks and moved to Harrogate, UK, where I took up a position as UK & Europe Manager, a role I enjoyed very much.
After approximately 2½ years, we moved back to NZ and I took up my current role as Howick Head of Sales. Since leaving the UK, I have continued to travel back there 2 to 3 times each year, so I am still well connected to our UK and European customer base.
I now have two kids in tow, and of course my family is important to me, but I remain dedicated and passionate about the Howick product and what we do. I still get time to indulge my interests in Speedway and mountain biking. Of course as a good Kiwi, I love rugby and rugby league too. What else would you expect!"
Interested in Howick roll-forming technology and what it can do for your business?
Talk to Deon today. Click here to get in touch.