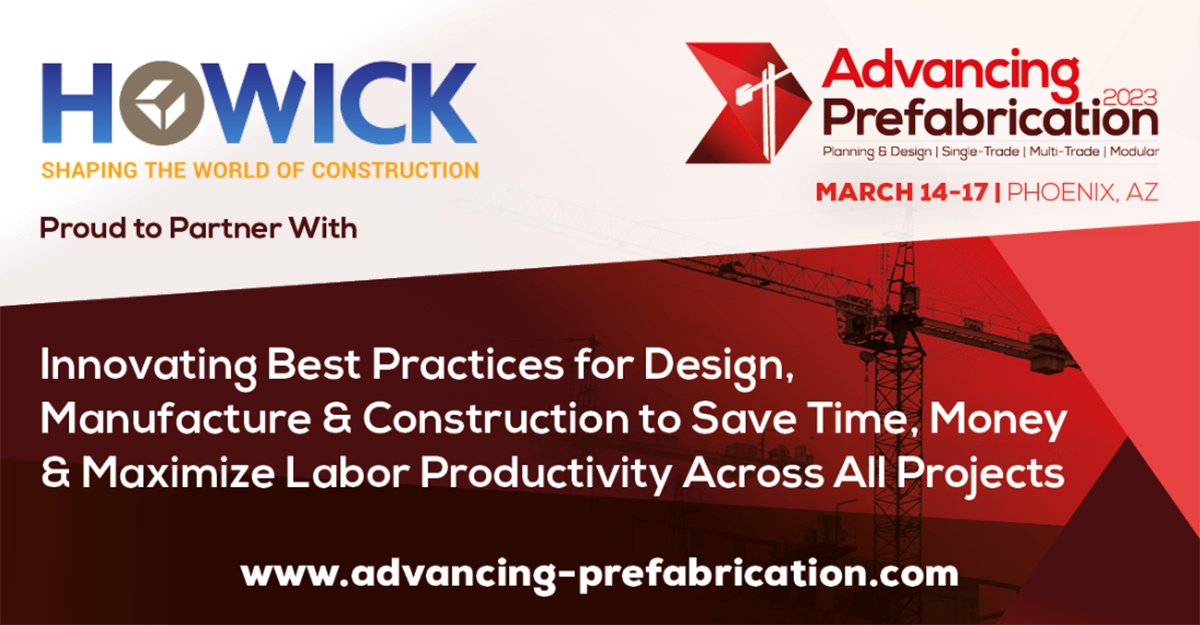 As a global leader in cold formed steel (CFS) technology, Howick is delighted to confirm it is participating as an Exhibition Partner at the forthcoming Advancing Prefabrication 2023.
This showcase event in Phoenix, Arizona, attracts over 1200 industry leaders, CEOs, and decision-makers, making it North America's premier networking and thought leadership conference for the sector, and an ideal fit for Howick.
Setting new standards for construction
With prefabrication and industrialized techniques becoming increasingly vital, attendance at Advancing Prefabrication is a must for industry leaders looking to secure a competitive advantage. With its focus on implementing prefabrication, modular, and industrialized construction, it will bring to life how these techniques can help the industry build faster, safer, and to a higher quality.
This year's event offers 30+ hours of networking activities. There are educational programs to help drive industrialization to the next level. You can experience first-hand how the industry is pushing the boundaries of prefabrication on one of four exclusive offsite tours. Finally, a market-specific focus day explores cutting-edge applications, technologies, and workflows for sectors such as healthcare, data centers, manufacturing and hospitality.
If your firm is looking to move the needle with smarter construction practices this year, we are convinced the event will leave you feeling inspired, energized, and connected.
Sharing our experience
Howick will be on hand to share our experiences of working with firms across the globe as they transition to prefabrication, modular and offsite building practices. If you are looking at how roll-forming and cold formed steel construction technology fit into this landscape, please join us for a conversation. We can walk you through what is involved, the latest technological advancements, and help you fast-track your results.
Register Today
Join Howick at Advancing Prefabrication and be part of the conversation about how we can revolutionize the construction industry through innovation, best practices, and cutting-edge technology.
It is all happening at the Sheraton Phoenix Downtown, Phoenix Arizona on March 14-17, and you can register for your ticket now.
Register here for Advancing Prefabrication 2023 event tickets
Meet the team from Howick at Booth 113.