Survey Insights into Current Usage and Limitations
As a leader in light steel construction technology, we are excited to share the results of our recent survey on the state of construction software heading into 2023.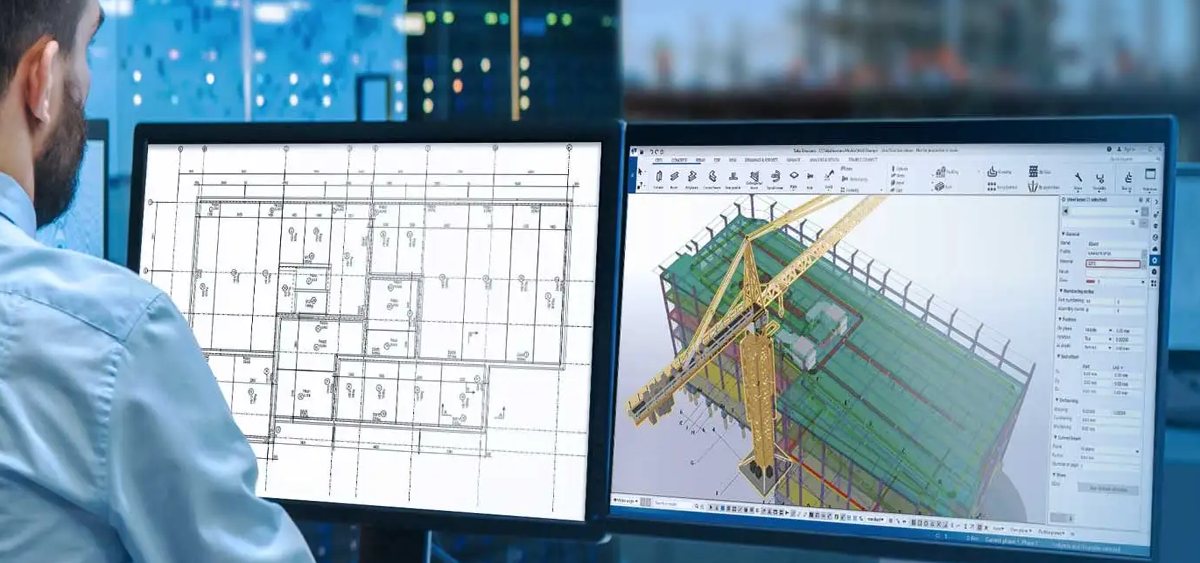 Tekla Structures BIM Software in use: Image courtesy of Tekla
The Howick Construction Software Survey 2022
Our survey aimed to establish a benchmark for the tools being used in the construction industry, to uncover valuable insights into how these tools are being used, and to explore how they can be improved.
The survey was distributed to people in the construction industry on Howick's database, plus it was shared by a number of construction software brand owners to their databases. 242 completed surveys were used in the final analysis.
The survey explored overall usage of construction technologies like framing automation and CNC-driven technology. It looked at how take-up of software changed by sector. Then it delved into specific categories, including architectural design, MEP design, framing detailing, engineering analysis, cloud-based BIM and the usage of 2D and 3D technology.
Construction software insights
The survey findings provide significant insights to benefit software developers. As well as ranking the penetration of the different brands of construction software in use across construction sectors, it explores perceived levels of capability and know-how within the surveyed firms, the budgets they apply, and the opportunities they see for improvement.
While the use of technology in the construction industry is increasing, the results revealed limitations and many challenges to be addressed, as well as opportunities for future development to encourage further adoption.
There were a number of common themes highlighted in the overall responses relating to desired features and functionality:
The desire for improved integration and collaboration between different tools to enable seamless integration, so users are able to collaborate and share information easily.
Streamlined workflows and the automation of repetitive tasks such as structural calculations and design, as well as the use of AI and cloud services to speed up the design process, saving time and increasing efficiency.
Improved user interfaces and design capabilities so the software is easier to use, more intuitive.
There is a desire for software to integrate better with Building Information Modelling (BIM) tools, and to work with a wider range of file types and other software.
In terms of current limitations in the software, there were a number of similar themes that came through:
Complexity and difficulty in both learning and using existing software: This highlights the need for software to be user-friendly and easy to learn, with clear and intuitive interfaces.
Integration and interoperability issues: There is the need for software to be able to seamlessly integrate and communicate with other tools and platforms, and for users to be able to share information easily without losing data.
Limited capabilities and functionality: While ease of use is key, software does need to have robust capabilities and features, including the ability to handle complex designs and provide clear documentation.
Increased reliability with prompt and effective customer support available to resolve technical issues quickly: Glitches and technical issues such as slow loading times, losing information when changing files between versions, and geometrical errors when transferring models all received mentions.
In conclusion, the survey results validate that the construction industry is increasingly embracing technology to improve efficiency and streamline processes. However, there are opportunities to improve functionality and make adoption easier within the sector.
Download the full Construction Software Survey Findings
Download the Howick construction software survey findings for a detailed look into how the construction industry is adopting and using software currently. The download is free, and it is not gated. If you are interested to hear about ongoing developments in the world of construction technology, or you would like more information about Howick roll-forming machines, please do get in touch.
Better construction software will help the industry build better, faster and more efficiently, and at Howick, that is the mission we are on. Here is to better building outcomes.