Lumber prices in the United States have exploded over the last year, reaching a record high.
In just one year, the price of lumber has increased 377 percent. Lumber that had historically fluctuated between US$200 to US$400 per 1,000 board feet now costs US$1,635. An article titled Visualizing the Recent Explosion in Lumber Prices, published in Visual Capitalist recently, outlines the realities of this dire situation.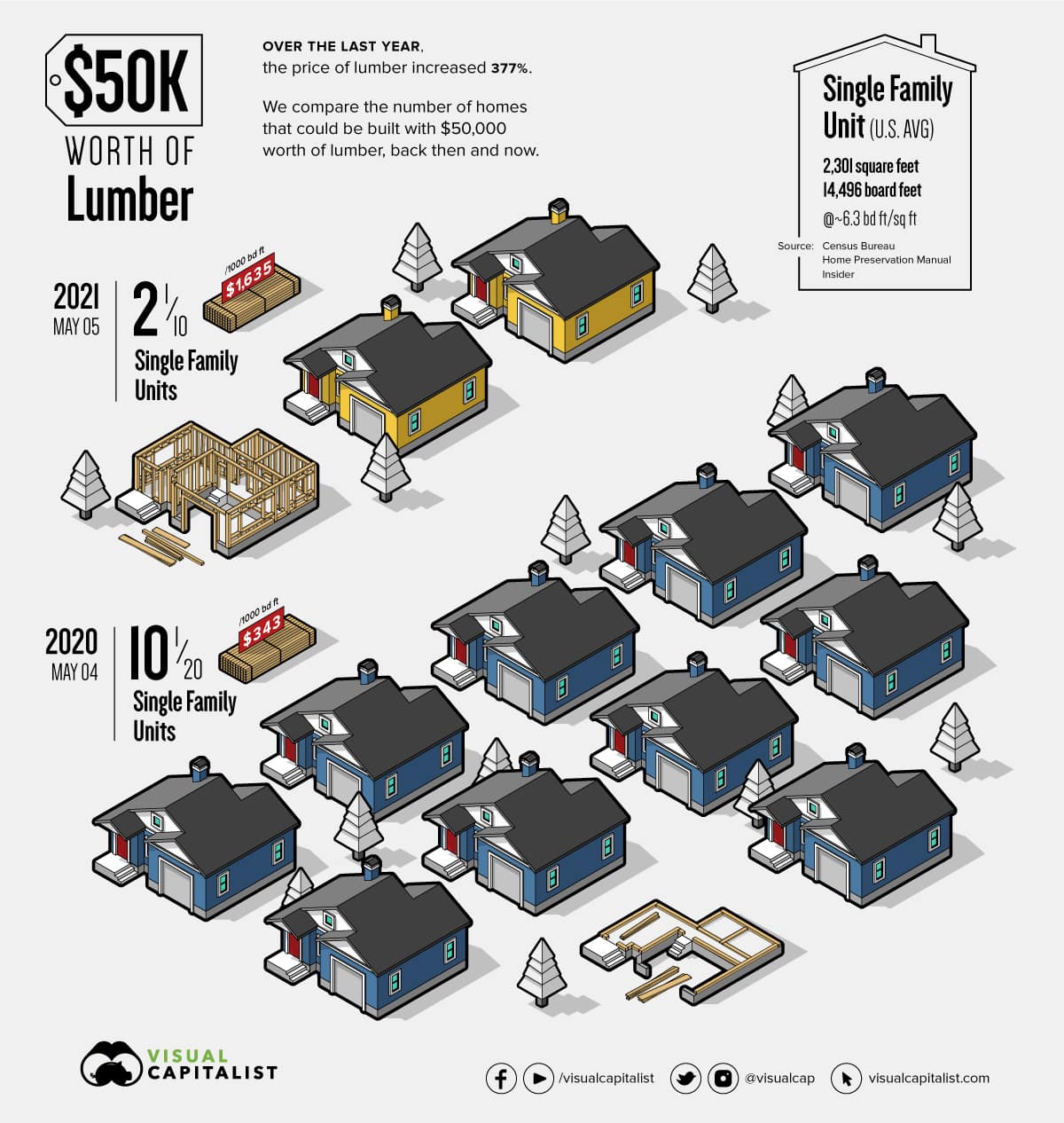 To gain an understanding of exactly how this is impacting the housing industry, consider what can be built with US$50,000 worth of lumber compared to previous years. Taking a median-sized (2,301 square foot) family home as an example, the difference is marked even within just one year:
In 2021, US$50,000 would buy 30,581 bd ft of lumber and build 2.11 homes
In 2020, US$50,000 would buy 145,733 bd ft of lumber and build 10.5 houses
In 2015, US$50,000 would buy 213,675 bd ft of lumber and build 14.74 houses
Supply and Demand
Lumber supplies in the United States came under pressure in April 2017 when the Trump administration raised tariffs on Canadian lumber. Since then, lumber imports have fallen, and prices have experienced significant volatility. Sawmills shut down, and then COVID-19 cut production even further.
Against expectations, COVID-19 has led to a significant boom in housing markets, greatly increasing the need for lumber. Increased savings during the pandemic, record-low mortgage rates, and a keenness among homeowners to renovate to accommodate their new stay-at-home lifestyles have all impacted on the now pent-up demand.
What to do?
Analysts are now warning that lumber prices could reach a flashpoint, where affordability becomes so limited that demand suddenly falls off. This has led the National Association of Home Builders to ask the Biden administration for a temporary pause on Canadian lumber tariffs, which sit at nine percent. And the United States is currently appealing a World Trade Organization ruling that states its 2017 tariff hike was a breach of global trading rules.
One possible solution
Considering an alternative to lumber is one possible solution. To find out more about using steel instead of lumber for your next construction project, get in touch with Howick today.