Howick is up with the play when it comes to what has been recognised as the top construction wearables of 2021.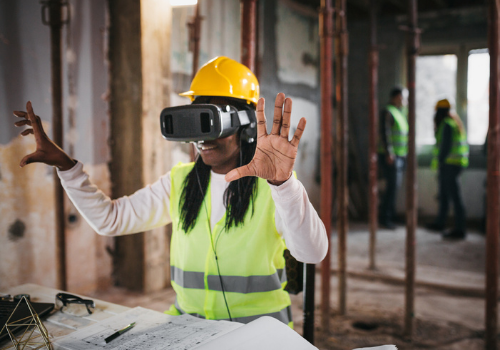 "Wearables" have become one of the latest buzz words in the construction industry, so much so that an article has been dedicated specifically to the top construction wearables of 2021. Featuring highly are augmented reality glasses, exosuits and smart boots. Given the variety available on the market, construction workers can be equipped with wearables from head to toe.
It was Covid-19 enforced travel restrictions that fast-tracked Howick's interest in innovating its support, training and commissioning service to benefit its many customers world-wide. Howick did so by adopting Augmented Reality (AR) technology, choosing to use the Mira wearable workflow platform, which is donned as reality glasses.
Howick CEO Nick Coubray says adopting AR technology has enabled his company to take its support service up yet another notch.
How it works is that the Mira wearable (hands-free) headset/glasses creates a virtual "in-person experience" so the Howick team can guide and direct its customers through engineering support requirements, remote commissioning and training needs.
So, when construction companies receive their new Howick machine(s) the Howick team can guide them remotely step-by-step through the commissioning process via the Mira headset provided along with a machine purchase. Of course, this guiding can be done in person if that is preferred, and travel restrictions during Covid-19 times allow.
Such wearable technology is hardly a gimmick or passing phase. Wearables in construction have already proven their value in either data collection, communication or worker enhancement. Unsurprisingly, wearable technology use will continue to expand, according to MarketWatch - a website providing financial information, business news, analysis, and stock market data. It is anticipated to grow at a compound annual growth rate of more than 15 percent between 2020 and 2027 (back in 2019 it was valued at about $28 billion US dollars – that is nearly $40 billion NZ dollars).
With wearables comes many benefits, as identified by Rackspace Technology – a multicloud solutions provider. Wearables can increase productivity in the construction industry by 8.5 percent and workplace satisfaction by 3.5 percent, Rackspace research indicates. Furthermore, Occupational Health and Safety Administration (OSHA) says wearables could help lower insurance rates and improve employee safety and health.
AR technology is an excellent fit for an innovative company like Howick, its CEO says. Howick is committed to continuing to evolve its smart technology offering.