The benefits of offsite construction and the use of light gauge steel are being lauded by an Irish chartered building surveyor and sustainability advocate.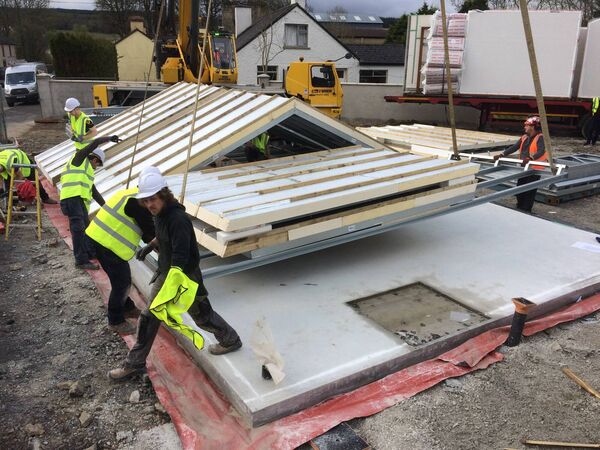 An article published in the Irish Examiner in June 2021 is dedicated to Fergus Merriman's conviction that improved sustainable houses can be built speedily and affordably if an entirely new approach is embraced. He has built one in County Clare, Ireland, to prove it, and says the model of that house, which incorporates the basic requirements of a sustainable home, could be easily replicated.
Those requirements include the use of strong materials that minimise the environmental footprint, are multifunctional, and can be recycled at the end of a long life. Speed and ease of erection are also critical.
Based on those parameters, he believes light gauge, steel frames are the answer.
"I've found that light-gauge, steel frames provide all the necessary attributes for the basic structure of a house. They are flexible, easily fabricated, have little waste and are lightweight and robust, all of which allows efficiencies to be gained elsewhere. Critically, steel gauge frames are made from recycled material and are, of course, fully recyclable," he says.
Fergus also points out the advantage of offsite construction.
A normal building site, he says, will generate multiple heavy transport movements with associated inefficiencies and a huge carbon footprint. However, the delivery of frames from a centralised manufacturing plant can be reduced to two or three trucks.
There are efficiencies to be gained from mass application of the sustainable structures and systems outlined in his sustainable house build, Fergus believes. Read here for more on Fergus' sustainable house project.
Based in County Clare, Fergus is a member of the SCSI's sustainability group. The SCSI is the leading professional body for construction, land and property professionals in Ireland. More than 300 surveyors and 45 leading firms have signed up to 'Surveyors Declare' a recent SCSI initiative whereby signatories commit to following sustainable business practices in their day-to-day operations.