Once again, Howick's STEEL HORIZONS has proven hugely popular this year. The over-subscribed event provided industry leaders with an exclusive showcase for the application of modern construction methods globally.
Group photo of Howick and Autodesk staff.
Bringing together some of the most influential minds in industrialized construction
For 2023, Howick took its thought-leadership showcase to the USA, hosting the event at the Autodesk Technology Center in Boston. It brought together some of the most influential minds in industrialized construction from across the built environment. With a full day program this year and even more expert speakers, we explored a wealth of topics brought to life through showcased projects. It was wrapped up with a tour of the cutting-edge technology on display at the Autodesk Technology Center Boston facility, including an incredible "AI as a Client" installation by STUD-IO.
Allison Scott, Director, Customer Experience and Industry Advocacy at Autodesk, was masterful as master of ceremonies for the day. She kicked off a program focused on empowering innovators with design and make technology to achieve new possibilities in construction. Howick's Head of Global Marketing and Export, Cindy Posimani, joined her to emphasize the company's belief in thought leadership, inspiring collaboration and innovation, and thanked Autodesk for their unwavering support.
Showcasing cutting-edge construction technology
The day featured an array of thought-provoking subject matter expert speakers who shared valuable insights and case studies on cutting-edge construction technology.
Dave Cooper, Co-Founder of Dave Cooper LIVE, took the audience on a whirlwind tour of industrialized construction worldwide, highlighting megatrends driving innovation in the sector.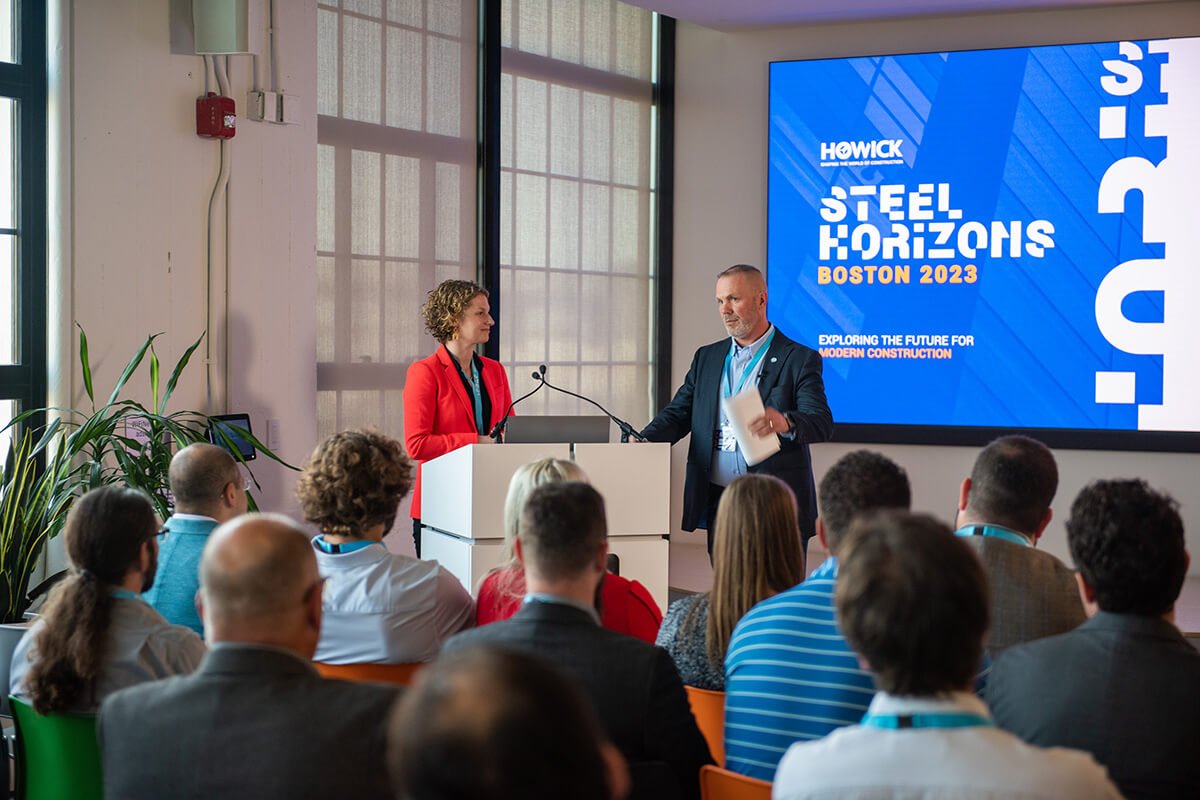 Dave Cooper of Dave Cooper LIVE and Allison Scott, Director, Customer Experience and Industry Advocacy at Autodesk.
Brandon Ionata, Solution Line Senior Director at StrucSoft, showcased the pivotal role of BIM in prefab industrialized construction, leveraging Revit as a single source of truth for measurable productivity gains.
Magdalena Kowalczyk, Research Engineer Industry Futures at Autodesk, discussed the company's industrialized construction research, exploring the frontiers of new technologies and practices to design and make a better world.
Amy Marks, VP Enterprise Transformation Practice at Autodesk, also known as the "Queen of Prefab", discussed expected experiences changing views of data, BIM, and design-make solutions. She challenged the industry to focus on reusable, customizable building products and sustainable, scalable project lifecycles to reduce waste and create a better world.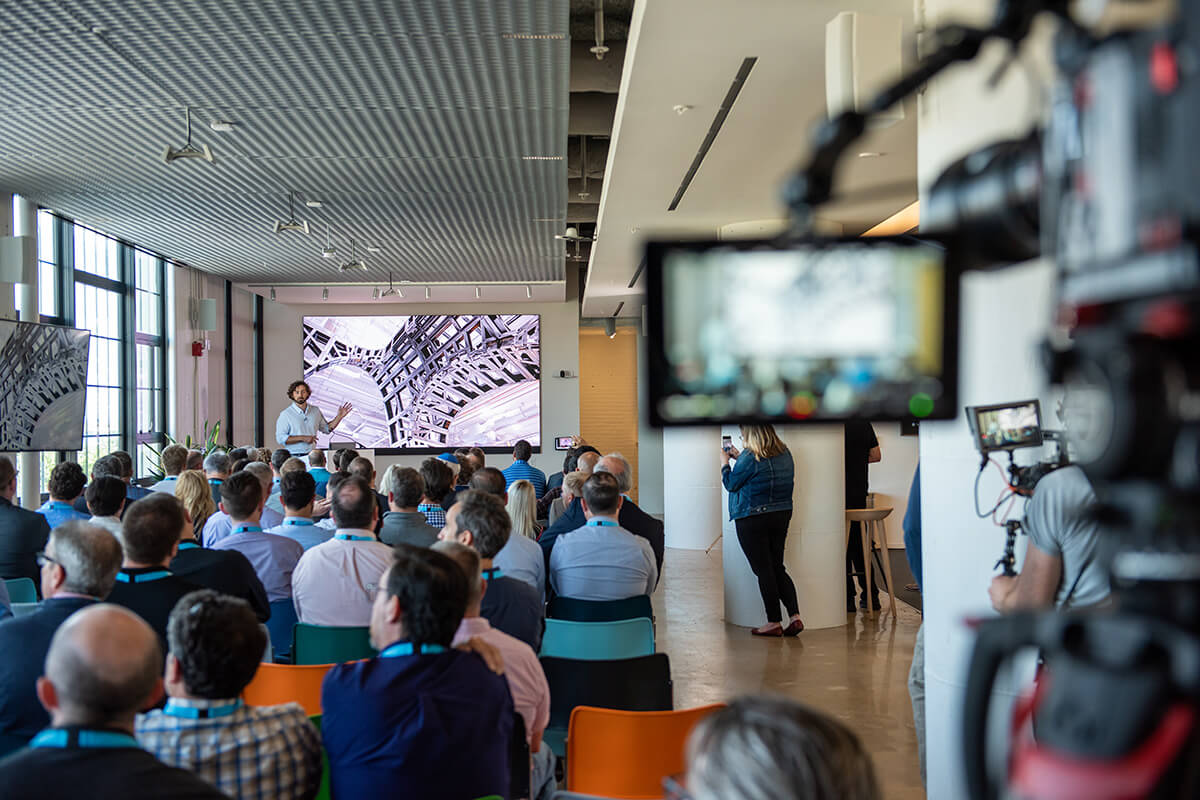 Scott Mitchell, STUD-IO.
Speakers Scott Mitchell, Founder and CEO of STUD-IO, Amr Raafat, Chief Innovation Officer of Windover Construction, and Hamish Coubray, Director of Howick, shared insightful case studies of leveraging technology and collaboration for groundbreaking advancements in construction. This was literally brought to life through Scott's team with the "AI as Client" installation on display. Testing the boundaries of the latest technological advances, STUD-IO demonstrated how generative AI and intelligent software are increasingly allowing architects to create their boldest ideas in ways that builders can realize with ever-greater efficiency, speed, and cost savings.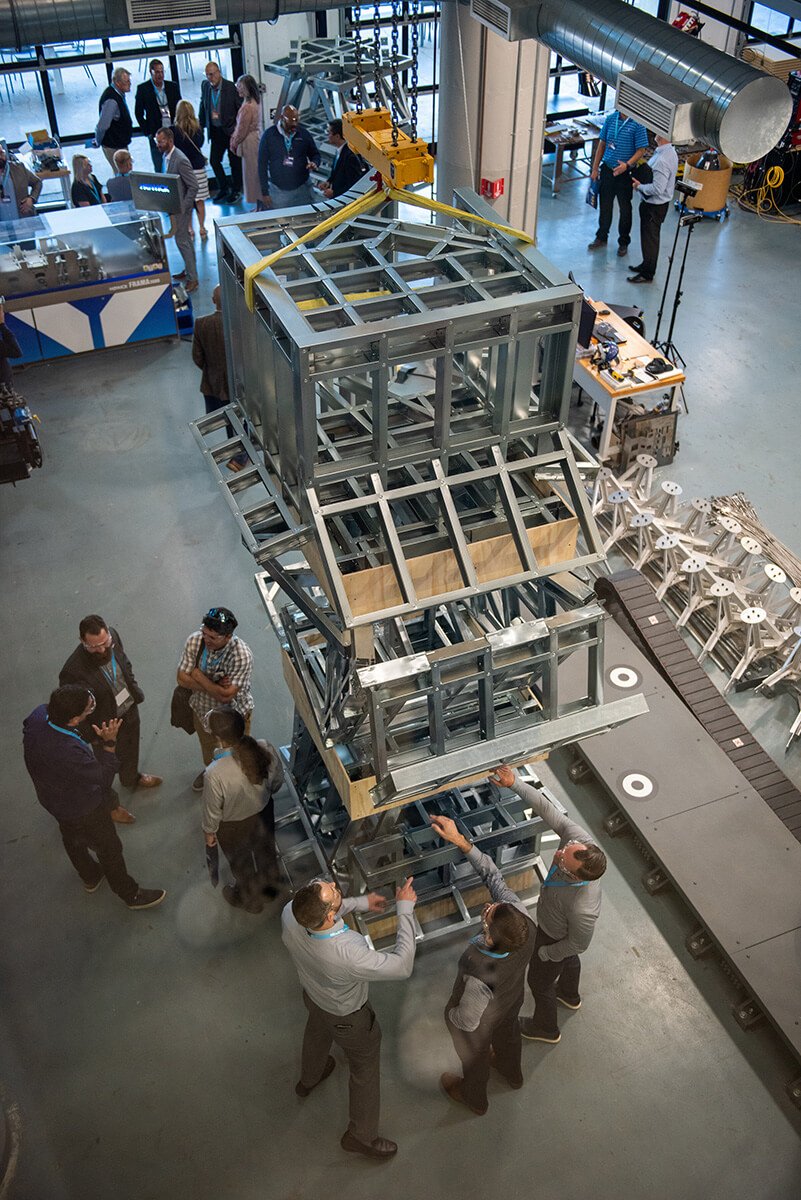 "AI as a Client" Installation, by STUD-IO at the Autodesk Technology Center Boston.
The speaker sessions also included insightful presentations from Jim Stoddart, Research Scientist/Engineer at Autodesk who talked on generative workflows for the industrialization of construction; and Russell Wills, Director of Plant Operations at MODLOGIQ, who went through the ins and outs of a successful pre-construction phase for offsite manufacturing through to delivery to site.
The future of construction: Collaboration, technology, and sustainable efficiency
The summary out-takes for the day were threefold: the significance of collaboration throughout the design-manufacture-build cycle; the incredible potential power of harnessing technology effectively; and the efficiency and sustainability improvements that result for the construction sector.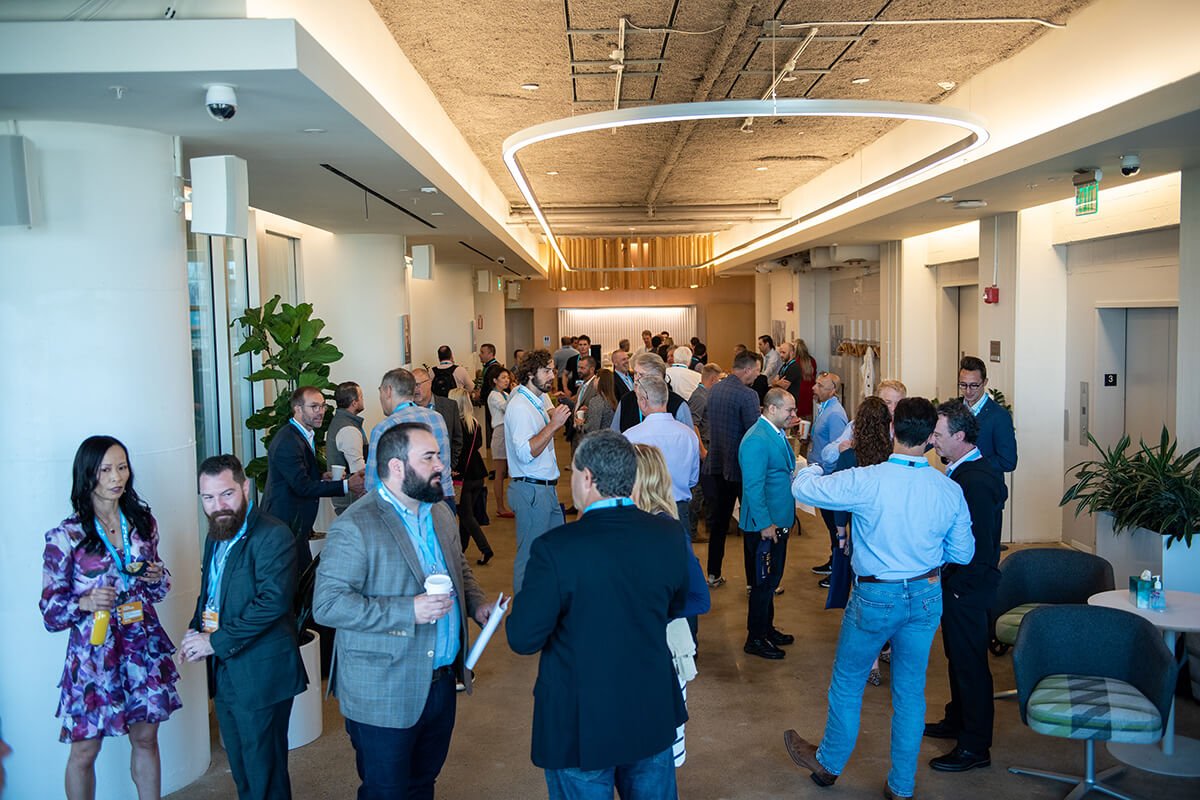 Construction industry leaders gather at Autodesk Technology Center Boston for the STEEL HORIZONS | BOSTON 2023 event.
With its powerful insights and thought-provoking discussions, STEEL HORIZONS | BOSTON 2023 set a new standard for the future of industrialized construction.